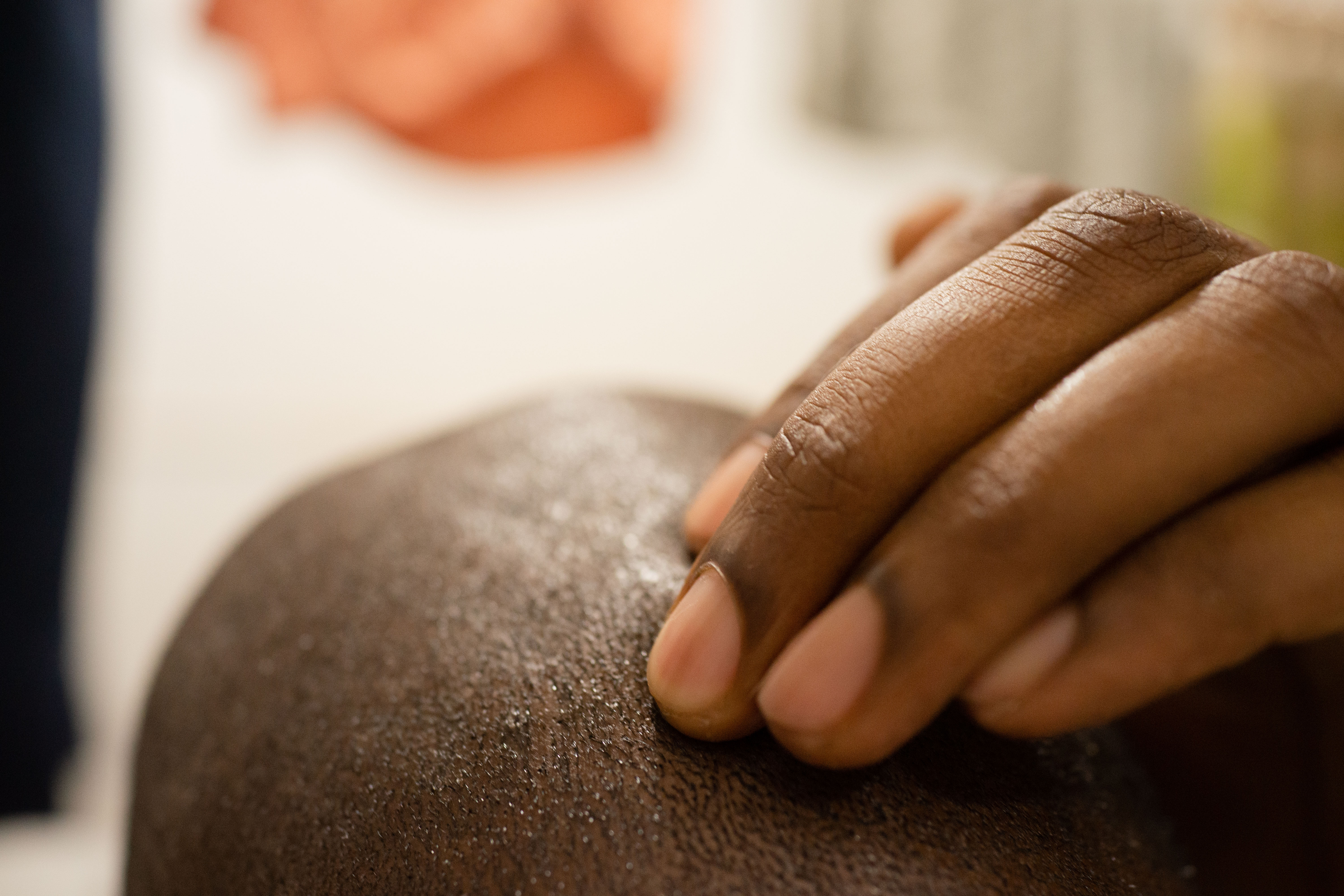 Lantern Lane

We were outside. It was 1st grade. I was attending Lantern Lane, a school in the suburb Missouri City. I don't remember her name. But I do remember what she did to me. And I remember her reason why. Because she told my mother to her face. In front of me.


We were having a bubble gum bubble blowing competition. We were in the front of the school. It was a sunny day.


"Ronald, did you throw away your wrapper?" The teacher asked.

"No, ma'am." I replied.

"Come throw it away." She added.


I grew tense. I could feel that something was about to happen to me. That she was going to hurt me. It seemed the trash was further away than it was originally.


The school front facing wall was lined with brick pillars. Dull, blunt objects.


She stood in my path. Her presence signalling that I should go around her. I could see the bin on the other side of her. I could feel her foot stop my leg from raising. I lost my balance. Falling headlong into the corner of the pillar adjacent.


"AHHHHHHH!!" I screamed.


My head is bleeding. I'm cut. I'm crying.


I'm in the nurse's office. No one believes the teacher tripped me. They put an adhesive strip on my head. I have a full head of hair. The strip floats atop my hair.


My mom comes. I tell her what happened. She wants answers. No one has any. They've made sure to send the teacher home before she arrived.


The teacher kept her job. No one believed a white teacher would purposely abuse a Black child in front of the whole class. In broad daylight. In the front of the school. Visible from the street.


--------


The last experience and the next are linked by location, educator and outcomes.


The memory starts in my living room. My mom is asking me to recite the ABCs. There is something wrong. I can't understand why she is so upset with me.


Now we're at the school. My mom is having a heated discussion with the teacher.


"Why doesn't my son know his ABCs?!" My mom asked aggressively.


"I don't feel like I have to teach your son." The words came without hesitation.


"Why don't you feel like you don't have to do your job with my child?!" My mom asked clearly agitated.


"I don't feel like I have to teach your son, because he's Black." She stated matter of factly.


We were supposed to go on a vacation. We had been planning this for some time. We couldn't go. I had to learn.


"And the school...They're gonna pay for your tutor." My mom's words were firm and resolute.


And they did.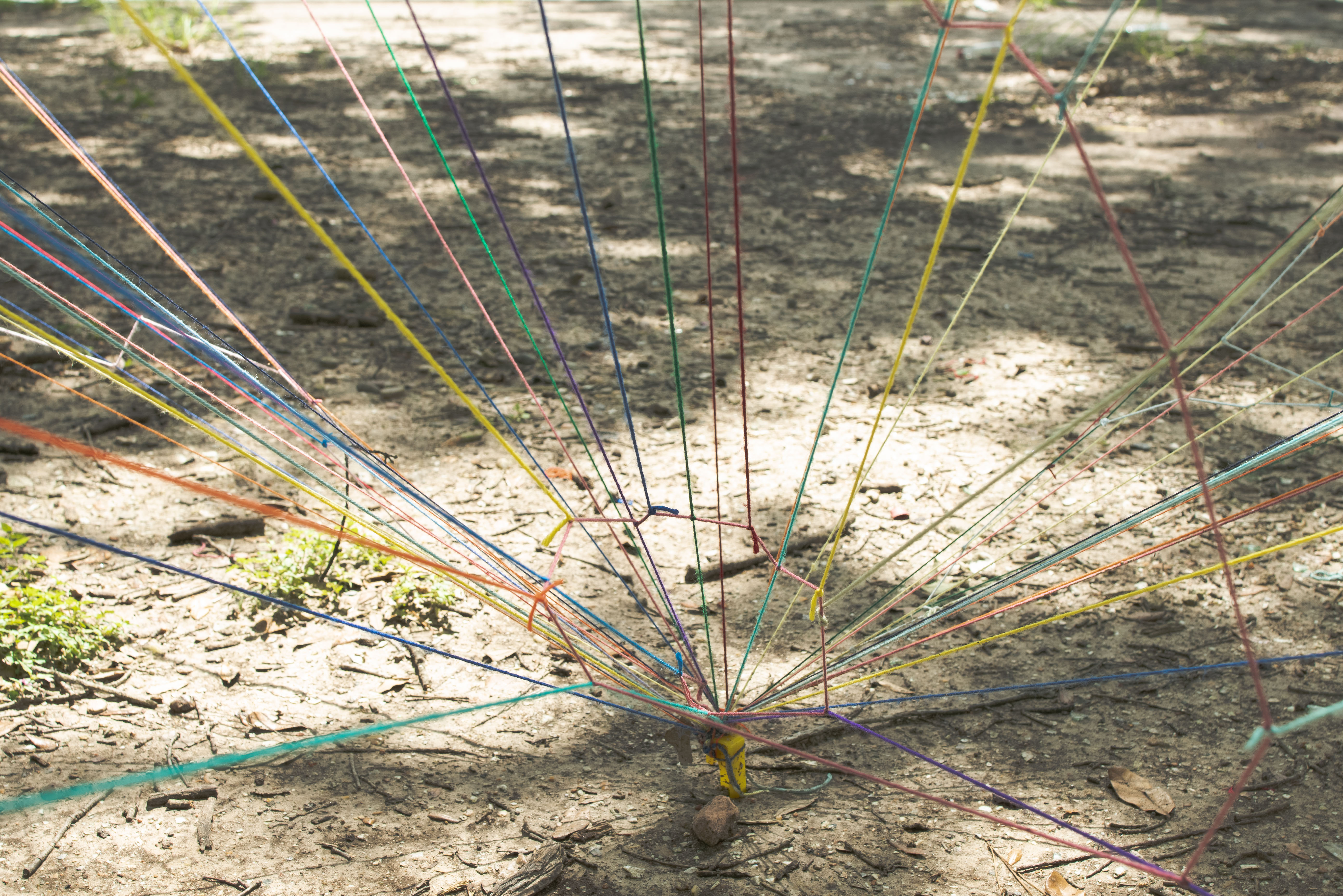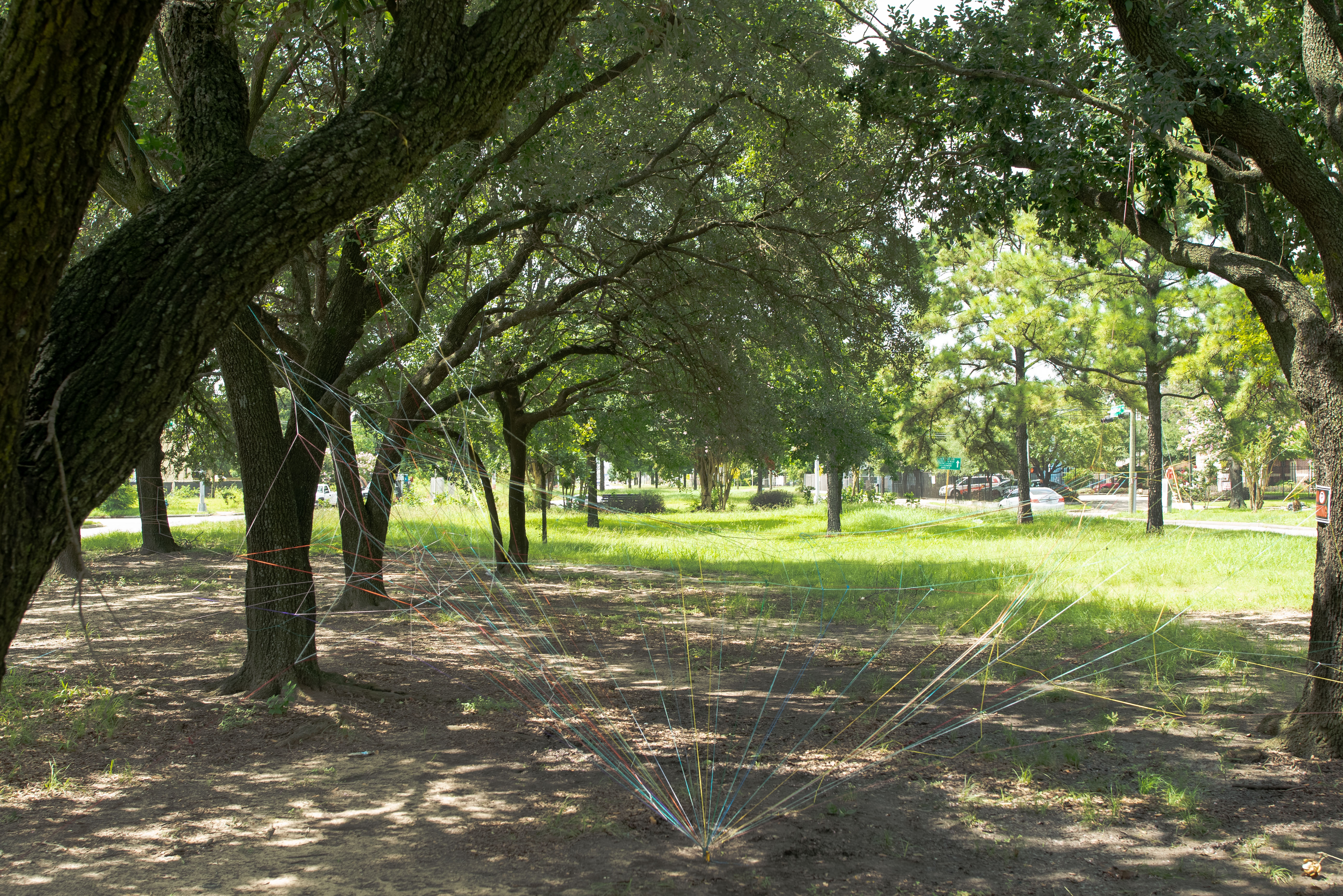 Hearts [Like Diamonds]:
The Monozygotic Twins of 5th Ward

(Part of a series of public works funded by Houston Museum of African American Culture.)
---
Hearts [Like Diamonds] highlights industry's insatiable need for expansion and capitalism's dependency upon Black, Latinx, and other communities of color as preservers of unapplied capital. Expansion regards these communities as expendable, an attitude that can only be addressed through the transference of knowledge and the willful acceptance of that information. It symbolizes the unbreakable bonds forged within communities while its residents are shepherded into a system of intentionally, seemingly insurmountable hardships and hazards.

If they refuse to write about us, to present us as our whole, true selves; if they will not highlight or showcase our excellence, or entertain our assertions for agency, we must deduce that we are solely responsible for curating an inclusive space and assuming agency where it was once denied so that we may project our stories and the stories of our communities into the future.

Hearts [Like Diamonds] envisions, if not reimagines the community of 5th Ward, Houston, Texas as a mine where diamonds are formed under variants of discriminatory pressure. Pressures which are applied to all residing within the redlined district, indiscriminately. Diamonds, birthed, are raw glass like orbs of hardened carbon. However, once cut, the nearly colorless stones reflect and refract colors and light waves with razorlike precision, transforming white light into brilliant displays of rainbow-banded colors. Its preciousness, and near indestructible properties make it one of the most coveted naturally occurring objects in the world. The spaces these stones are found are not always the most beautiful, yet what lies hidden beneath the surfaces of these landscapes beacons prospectors.

Full description and press release coming soon...
Hearts [Like Diamonds] Pt. 1
Brief time lapse of an installation currently underway in Houston's 5th Ward. The installation is part of a series of public works funded by Houston Museum of African American Culture to be completed Summer 2021.

More information to come.
Shortcuts
Over the last seven years I have learned to view the application process as a glass ceiling and deterrent for individuals without professional artist and exhibition statements, documentation or previous exhibition experience. I, like many artists, became infuriated with the process and it's of lack clarity with regard to denials.

So, me being myself, I wanted to investigate that system. It felt like a gatekeeper for an audience that might want to meet me. I had been hoping to introduce myself, eventually. However, I wanted to speak directly to their audiences, circumnavigating the process entirely. I wanted to be sure I was wanted in the space and if what I was creating would meet someone new that would help to fund the continuation of that work.

I submitted two works to two silent auctions, two years ago. I needed to give myself an ultimatum on how much I was investing in investigating different mediums. I told myself, "If either one does not sell, I will discontinue that practice for the time being."

The events happened on Thursday and then on Friday. On Thursday, the print sold. The next day, someone stood in front of my piece to make sure they won it. Both instances were heartwarming and reaffirming.

This year, I expanded upon the concepts and ideas incorporated in the previous works. Both artworks sold.

This is not a knock at either institute as they both have provided opportunities for my success in the past. It's simply to highlight the need for more spaces for art to be made visible.

Sometimes the things that get rejected, if accepted, could change someone's life. Which is why I am so committed to the idea of intersectionality of community, because so many people just need a light to be shone on them for only a moment.
Leave Your Shoes At The Door
I was asked to help coordinate an arts event benefiting a company that provides shoes to developing nations.

When I was released from prison I started taking photos, skateboarding and making art constantly. With no place to show art, I decided to ask my friend Jeff if I could organize an impromptu pop-up exhibition. It was this that made me visible to the organizer.

It was a lot of work and all of my money. My friend Eric designed the flyer using my photos. My sister Rhonda worked the door, I mc'd and ran the raffle for art work. We had art from the high school, greater community and some from friends in California. My favorite band, Harold Borup played, as did Earhart and kthanksbye. My friend Fabian did a live painting which we raffled along with some other artworks. We raised a bit of money, some of which was used to send the shoes off.

The remainder was burning a hole in my mind so I kept it with me in the case that some worthy organization might spring forth randomly. And it did. The women's crisis center had a pop-up booth at the junior college I was attending. I ran to get them money.

It was pretty meaningful for me because there was a time when I lived in the women's crisis center for a couple weeks.
Ronald L. Jones
[black] in pursuit of a monolith
Sayers Gallery | Summer/Fall 2021


A Note From The Artist

I had it all figured out. I was ready. I'd quit my job and began to work as a contractor for other organizations. I was able to have the conversations I wanted to have, without fear of rebuke. I could begin to share myself freely. I was creating more artistic space and opportunities for myself. I was beginning to see the agency I could take hold and move forward with it in my possession.

I applied, was nominated and won a residency. I'd been prepared for them to decline my application during the submission process. I would use the declination letter to explain how my past attempts to beat me at every pass to shortstop my progress. In the application they said the background check would occur during the semi-finalist selection. It didn't.

Having it all planned out. The idea that I would be in a position where no one would be able to decline me an opportunity. I had returned from prison dead set on owning everything I would need to create, live, and love myself through creative practices evolving from self-preservation and self-care needs. I just wanted to be able to say who I was, be me and not be restricted to a corner.

I wanted to say what my experiences were and I needed a jump off point. They gave it to me, but I had not thought I would be unprepared for it. Having the wind knocked out of me multiple times a day reflecting upon how bleak a future with no friends would be. Being transported to my release date and thinking, "Fuck, who is going to love me now?" And, "How am I going to make friends now?" Then, "What career could I have now?"

[black] in pursuit of a monolith, is an exhibition consisting of new sculptural works and installations by Houston-based artist Ronald L. Jones. This exhibition serves as a reflection upon that moment in time as well as an examination of what it means to be Black in America with the multitude of variants preventing the conflation of experience. [black] projects an answer into the ether with hopes that it reaches the future, those who will take up the baton to cross the finish line.
Half Your Worth [All Your Time], 2021
I have been working towards finding a binding media for some time now. Seeking out a way to create some kind of a unified form or aesthetic. A way to meld their respective vocabularies.

I created this piece with Marcus Wilson, my good friend in mind. I thought about him making me a clock in woodshop, while he was still in high school. My friend Matt Casas has the other half of the torn bill from the print. I carry my half in my wallet. Both are father's who work, or have had to take on jobs that limited available time with their families.

I received the acrylic sheets from my last place of employment, back when they would let me know when used supplies were available. I would always claim things. Subconsciously, I pr obably was looking for ways to make them pay me for how they treated me, by selling artwork created from materials sourced from the organization. In my artwork they are always representative of an oppressive structure, obstruction or glass ceiling.


The gold floss is representative of a path, or life. It is part of a vernacular developed as a result of the depression that set on after the revocation of a residency opportunity. It was originally a stand-in for lightning, or a light element. It is borrowed from the phrasing, "capturing lightning in a bottle."
In this work, the path is completely restricted to the confines of the task of working, knowing your full worth will never be recognized by those who employ you.
Back in my downloading days, I used to search random words and download whatever came up. One of those things was Kings of Convenience. It was a band and I'd describe them as upbeat and happy, but also still kinda depressing. They have a song titled Gold For The Price Of Silver. I feel like it fits the context.
This work is available for purchase through
Art League of Houston
at their
2021 MARTY Healing Art Exhibition & Small Gems Silent Auction
. It is a virtual auction which ends at
8 PM
,
Saturday, June 26, 2021
!
Projectors
[Or I have become infatuated with the idea of being our being a host of projections from the past onto the present learning to contribute to the messages echoing and projecting our aspirations, hopes, and prayers into the future.]
These were not the first tools I used when my interest in photography was sparked initially. The first camera I used was a Polaroid as a child. I did not have an earnest interest, one with passion and purpose or intent. We simply owned one at some point in my childhood. I would have access to several point-and-shoot, single-use Kodak cameras during my adolescence.

The first Kodak cameras I ever personally owned were used to capture the new friends I made while away at a summer work/school program for at-risk youth. I was transitioning from the ninth to the tenth grade and had already developed a reputation as a classroom disrupter.

During my science class, I was taken by a photograph of a classmate. It was a black and white photograph of a younger version of her. It was the most beautiful image I'd ever seen and I couldn't even express why I felt such intense emotion from a portrait. It was like a scene from a different lifetime captured by someone wishing to lock a special moment as it appeared. The image seemed to be projecting the past into the present to influence the future.

Projections, like predictions, aim to discern one or more potential likelihoods. However, projections unlike predictions seem to require a more active hand to maintain a prospective path.
I think nonstop. I constantly replay conversations and investigate their implications in a multitude of complex situations and scenarios. I overthink. I overthink out of self-preservation. A taught, learned, and adapted skill set built out of insecurities amplified by outside influences.

My thoughts consume me in ways that cause me to, at times become less reliable, flakey, short-tempered, depressed, and provoke suicidal ideations. There are so many conversations waiting for a starter, resting at the far corners and recesses of my mind.

I create constantly, mentally, and physically constructed improbable possibilities and structures. These works are conversations I create tangible forms to add physical weight and presence to abstract concepts and ideas.

I create in hopes that another can find the narrative that will direct them and their path into the future.

I once thought that the artist had an overarching, if not lofty responsibility: the production of imperative, documents of the varying life experiences and paths. Many times a day I find myself feeling as if I had a grasp upon an available pathway to a united future. In those moments I am overwhelmed with joy, love, and steadfast determination.

Lets Talk & Create
March 3 - March 9, 2021 | 7PM-10PM
Leaving space open for a conversation and creations.
March 10, 2021 | 7PM - 8:30PM
Houston-based creative Ronald L. Jones will give a brief presentation about his exhibition Wave (Goodbye) followed by a Q&A session.
About the exhibition:
Wave (Goodbye) is a site-specific sculptural installation by Houston-based artist Ronald L. Jones. The installation is representative of a large tidal wave and its wake, sweeping through GAC's main gallery space and engulfing visitors. Jones' work adds physical context to the magnitude of repercussions regarding inaction and indifference in matters of human rights and equality, ecology, and industry. The wake of Wave asks visitors to acknowledge a shared responsibility to the preservation and maintenance of a living planet and its inhabitants.
UPDATE:
SILENT AUCTION POP-UP

I knew we could do it!!! The goal I set was $1,600 and we surpassed it by $105!! SO AMAZING!
I will be making up the difference for the lawnmower which will be around $300. The remaining funds will cover taxes and a 3-year warranty. This way if anything happens within that time period they will not have to come out of their pockets to have it addressed.
I will update you all with additional details, images and commentary once the purchase has been make and the lawnmower delivered.
Again, I just want to thank you all for being such great persons and such an outstanding, amazing and supportive community!
Wave (Goodbye)
Galveston Arts Center | Main Gallery
January 30 - April 18, 2021

Wave (Goodbye) is a site-specific sculptural installation by Houston-based artist Ronald L. Jones. The installation is representative of a large tidal wave and its wake, sweeping through GAC's main gallery space and engulfing visitors. Jones' work adds physical context to the magnitude of repercussions regarding inaction and indifference in matters of human rights and equality, ecology, and industry. The wake of Wave, composed of translucent reflective surfaces, asks visitors to acknowledge a shared responsibility to the preservation and maintenance of a living planet and its inhabitants.
SILENT AUCTION POP-UP
College Memorial Park Cemetery
3525 West Dallas Houston
February 13, 2021 | 8am-4pm
The past few months I have felt more compelled to educate my nieces and nephews on the importance of family and community and our mutual responsibility to both. On a tour of some of the different communities persons like ourselves live within and are currently under siege by gentrification.

One of the locations we visited was Emancipation Park, one of the oldest parks in the state which is located within the 3rd Ward community. Emancipation Park exists because the folks within that community knew that future persons would need a space to enjoy themselves during reconstruction and later Jim Crow. I wanted to show how resilient was a community has had to be over the past 400 years. I wanted to show how a few motivated persons came together to create spaces that spoke to the future of our community. Jack Yates, a formerly enslaved person, founding member of a great many things in the Black community.

I was introduced to College Park Cemetery early this month. I, along with others, were invited to the cemetery to aid in the lawn services that occur the second Saturday of every month by the Houston-based multidisciplinary artist Mich Stevenson.

When I arrived at to perform the tasks asked of us, I was informed of the cemeteries history as one of three of the first and oldest cemeteries where Black people could be buried. I was informed that the cemetery was actually founded by two white men. One of which died and his estate sold their half, which is currently being converted into a high rise apartment building.

My job, along with one of the property managers and another volunteer, was to poke through the soil to find if there were gravesites that were not marked. The cemetery is in the preparing to create a space to house individuals that have been cremated. Our job was to make sure that they were not leaving folks vulnerable to accidental exhumation.

After about three hours of work I needed to take my leave.

While in engaged in conversation with the main proprietor, a Black man, Mr. Anthony, has had the property in his charge since 2015, I found that the cemetery needed a new lawnmower. He told me that he planned to reach out to Bun B or Beyoncé to finance the purchase. Right then I looked up how much they costed. It was $1600. I immediately started to calculate how much art I would have to make to finance the purchase.

My intent is to create a space for folks to purchase artworks who's generated revenue will provide the necessary financial support to purchase a lawnmower to replace the current model.

30+ artworks! No reserves! No starting bids! Available artworks list coming soon!

Partnership Tower Art Exhibitions
HFC cultural programs manager, Christine West curated this year's exhibition which features art works by contemporary, local African-American artists.

Color Story
February 6 - September 6, 2021
This two-person show features emerging Houston-based artists:
Lenecia A. Rouse
and
Jonathan Paul Jackson
, who both explore personal narratives through abstract painting and multimedia
collage on paper and canvas.
Exhibition Location:
Partnership Tower
Level 2
Garage Escalator Lobby
701 Avenida de las Americas, 77010
Ivory Towers
February 6 - September 6, 2021
Ronald Llewellyn Jones constructs a site-specific sculptural installation that redefines the space visitors and employees experience as they enter and exit the building. Jones will work throughout the month of February in the Partnership Tower lobby space. Onlookers are welcome to observe him creating on site, and safely watch the progress of the installation from the exterior windows that line the entry to the building.
Note: Partnership Tower, currently is closed to the public for health and safety due to the COVID-19 pandemic.

Jones will be on site February 5 - 28, 2021, 8 am-6 pm. (The artist's schedule may vary from day to day.)

Exhibition Location:

Partnership Tower
Level 1
Building Entrance Lobby
701 Avenida de las Americas, 77010


Sou'wester Historic Lodge & Vintage Trailer Resort Sponsored Residency
March 14, 2021 - March 30, 2021

I was recently awarded a two week sponsored residency at that Washington (state) based program! During my time there I will be staying in one of the many awesome trailers they have on their campus. At the end of my residency I will present art work within the trailer gallery.

About the program
Up to two individuals per month are provided sponsorship of an artist or wellness residency at the Sou'wester. Applications accepted from BIPOC, LGBTQ, and/or artists/people working on social activism, equality, or identify as underrepresented.
APPLY
This residency is available year-round (excluding holidays and peak periods) and generally run from Sunday at 4:00p to Friday at 11:00a. Sponsored Residencies are free.
Art Sale
December 7-14, 2021
20%-50% off
It's that time of year again. The time where I feel there is too much art surrounding me in my home studio.
I'm discounting several works that I would like to see in a new home. All prices are discounted by and will be valid thru December 14, 2021.
To inquire about item availability click this
link
.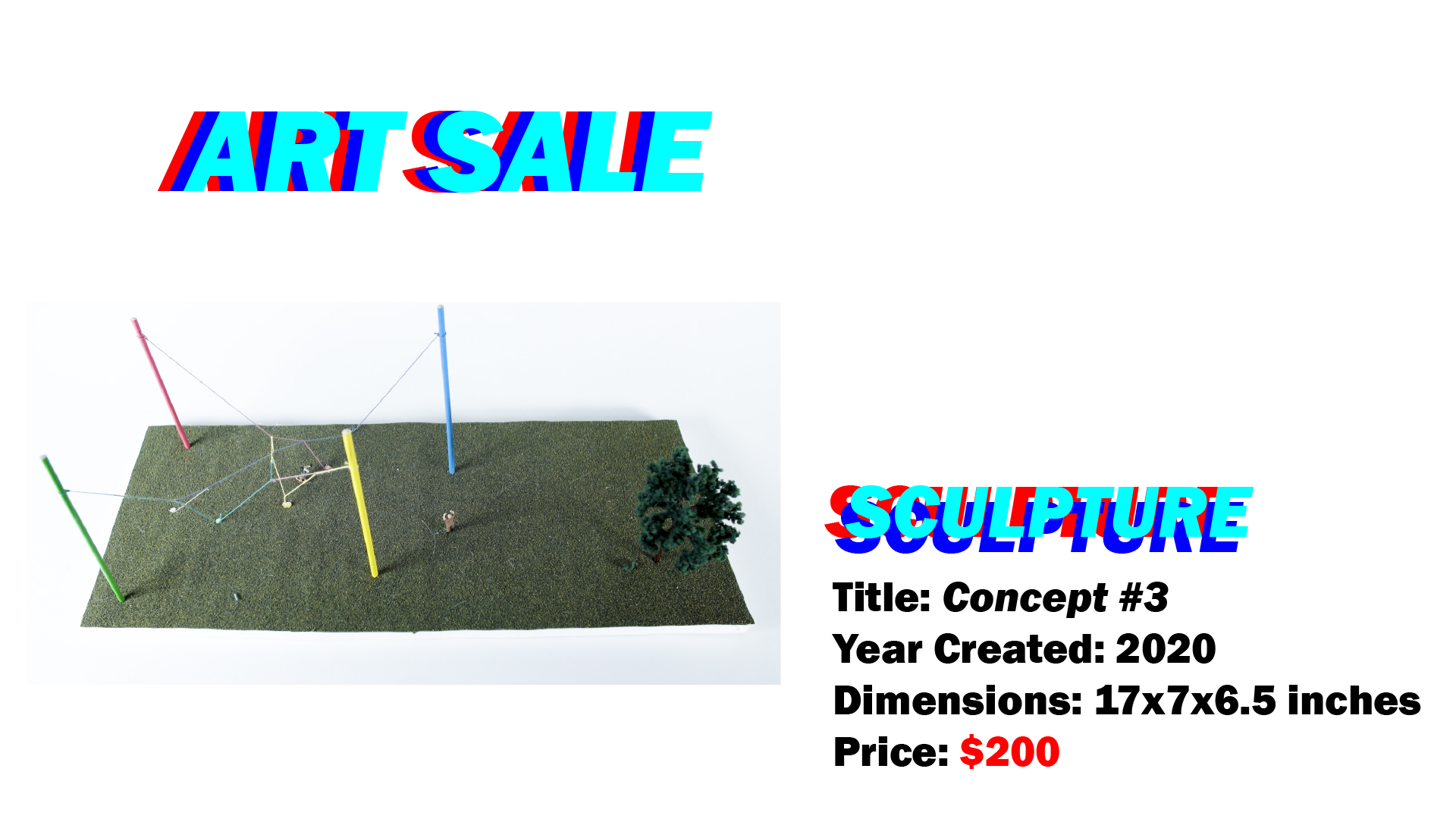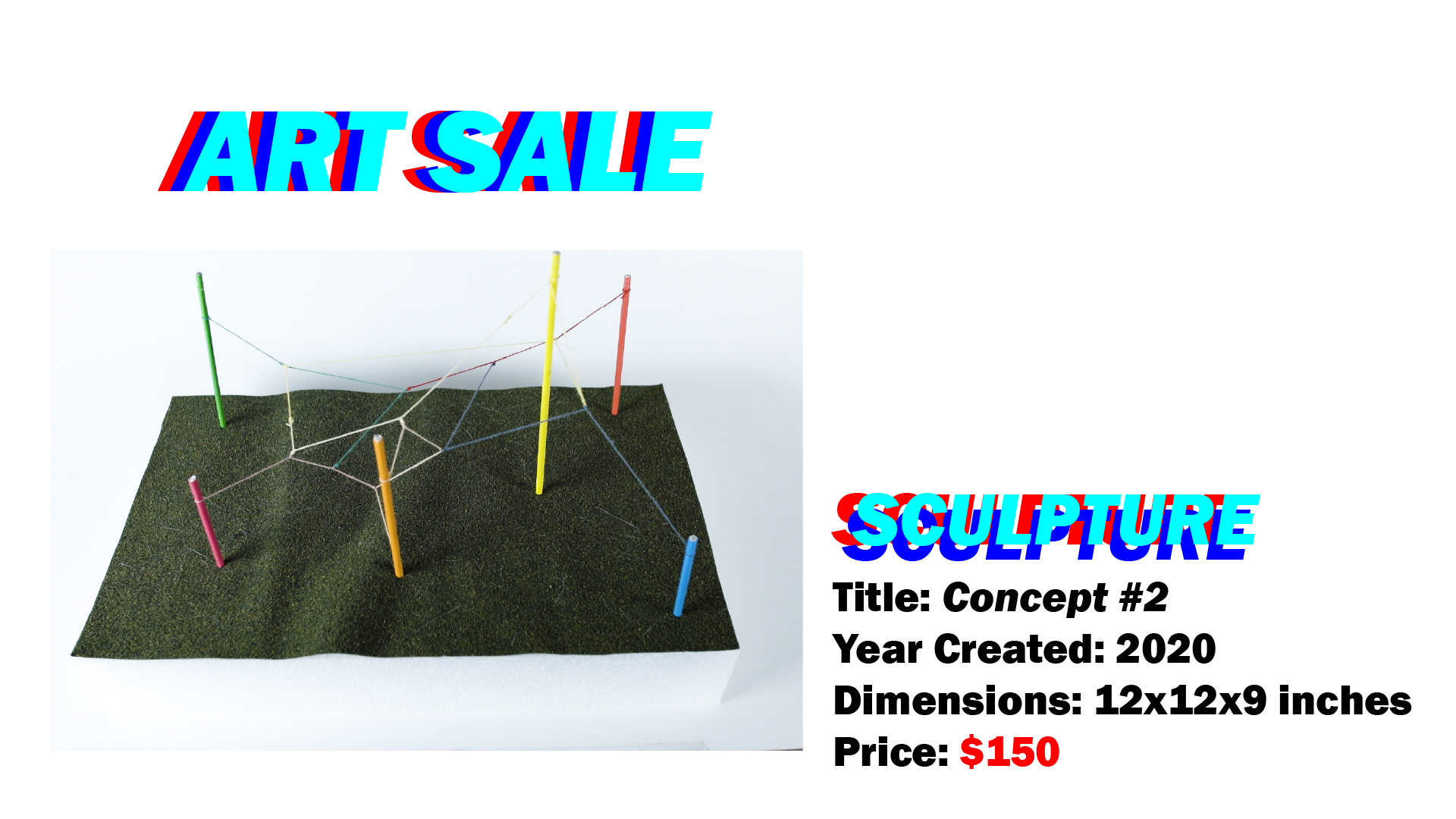 BME [Shayna]
My dedicated photo camera broke and I couldn't take headshots like I intended. But I also wanted to play with my video camera near where I live. There are lots of cool low light scenarios that I'd wanted to place someone in for a while. It's not being the easiest thing to do, ask someone to just walk around and talk with you...while you record or photograph them. That's my comfort zone, where all my best work comes from.

I like getting to know people and also being able to share those experiences with others. The fear that we will all be forgotten eventually drives me to document every conversation, gathering, meeting or occurrence so that we can always look back and recall, remember and be reminded of our past selves and our community. My sole aim with everything I do is to project myself and my community that much further into the future because history books have always managed to leave out some of the best parts of the story...us.

BME [Shayna] is an archive of the time and space occupied, the conversations, topics and their tones.
Nevertheless, She Persists
Nevertheless, She Persists, which premiered over Zoom earlier this month, is a production by Sue Schroeder, Artistic Director of
Core Dance
, in collaboration with Core Dance Artists and Berlin-based composer,
Christian Meyer
. The new performance advocates for the dignity, intelligence, and potential of women everywhere. Six artworks from the
Crystal Bridges Museum of Art
's collection prompted the approach, asking viewers to look again at the depictions of women from the nineteenth through late twentieth centuries—representations of women both prior to and following the passage of the 19th Amendment.
Again, Together
Online screening + panel (Intro by Ronald L. Jones)
January 21, 2021 | 6pm-7pm
A 13-minute documentary produced by Ronald Llewellyn Jones, in collaboration with
One Breath Partnership
, sets its focus on the cumulative effects of racist legislation that led to the contamination of communities of color, but more specifically those of the Black and Latino communities. The documentary looks back at what has caused a cascade of disparities within the Black and Latino communities starting with racist policies which gave open access to polluters within these respective and shared communities. Utilizing interviews the documentary offers first-hand testimony and experiences that cover a gamut of issues that stem from one root cause, racism.
Wave (Goodbye)

January 16-April 18, 2021
Galveston Arts Center
Wave (Goodbye) is a site-specific sculptural installation by Houston-based artist Ronald L. Jones. The installation is representative of a large tidal wave and its wake, sweeping through GAC's main gallery space and engulfing visitors. Jones' work adds physical context to the magnitude of repercussions regarding inaction and indifference in matters of human rights and equality, ecology, and industry. The wake of Wave, composed of translucent reflective surfaces, asks visitors to acknowledge a shared responsibility to the preservation and maintenance of a living planet and its inhabitants.
Zoom Co-Create Space
11pm-3am CST | 11/30-12/6
Are you one to disregard bedtimes? Same! I stay up pretty late, too. Let's stay up and cowork, create and conversate with each other.

Every night this week, starting at/around 11p I'll be hosting a Zoom call to make space for night owls that want to get work done while the world feigns sleep and scrolls underneath their blankets.

During that time I'll be cooking up bad jokes (I do this even without an audience or live streaming service), constructing new small works, editing personal video projects, printmaking, and digital artworks.

Visit my website, which is linked in my bio to access the necessary link to join the call.

Show or don't, I'll be creating either way!


The Brid[g]e, a visual essay, carries the narrative of an individual reaching their lowest point, yet unwilling to give up. Moments of mania, pause and blurred vision scored by melodic tones. The score aids the narrative hinting at the incessantly nagging thought often muted and the desire to rewind life.The Brid[g]e a composite of 'bride' and 'bridge'. A phrase calling for a bond between person and place; in this instance, a bridge. The idea that life has an end that you can claim, that we are bound to ourselves and a divorce is always an option. That we can attach a location to the act and keep it in mind in case of hard times.



2020 VIRTUAL GALA: CAN'T STOP, WON'T STOP
honoring­
Rick Lowe
•
2020 Texas Artist of the Year
Celia Álvarez Muñoz
•
2020 Lifetime Achievement Award in the Visual Arts
Mary & Bernardino Arocha
•
2020 Texas Patrons of the Year
------
Art League Houston (ALH) will hold our first one-of-a-kind 2020 Virtual Gala: Can't Stop, Won't Stop on Friday, October 16, 2020, 7 p.m. CST. Co chaired by Dr. Rachel Afi Quinn & Eesha Pandit, Dr. Greg Shannon and Claudia Solís & Dr. Matthew Wettergreen, this digital event will combine many components of ALH's signature in-person gala along with some special surprises! The evening will be emceed by Houston artist Phillip Pyle, ll and feature a delicious, three course dinner created by Underbelly Hospitality. Gala guests will also enjoy a captivating online silent art auction featuring work by both local and nationally recognized artists, a live-streamed performance by the New York–based duo The Illustrious Blacks, plus our annual awards ceremony honoring some of the brightest lights in the arts and arts philanthropy in Texas.
Contributing Artists
Celia Álvarez Muñoz • Charis Ammon • Claire Ankenman • David Aylsworth • Rabea Ballin • Debra Barrera • Erika Blumenfeld • Sebastien Boncy • Alice Leora Briggs • Susan Budge • Antonius-Tín Bui • Violette Bule • Margarita Cabrera • John Calaway • Alberto Careaga • Angel Castelán • Jimmy Castillo • Eepi Chaad • JooYoung Choi • Lucinda Cobley • Ruben Coy • Colby Deal • Jennifer Ling Datchuk • Julie DeVries • Tyler Deauvea • Lina Dib • Marsha Dorsey-Outlaw • Luisa Duarte • Trey Duvall • Brian Ellison • Sharon Engelstein • Ibsen Espada • Orna Feinstein • Caroline Graham • Gao Hang • Joseph Havel • Rachel Hecker • Daniel Heimbinder • Hillerbrand+Magsamen • Clara Hoag • Robert Hodge • Maria Cristina Jadick • Terrell James • Selven O'Keef Jarmon • Ann Johnson • Jules Buck Jones •
Ronald Llewellyn Jones

• Nyssa Juneau • Tsz Kam • Michael Kennaugh • Bradley Kerl • Daniela Koontz • Dan Lam • Nicolle LaMere • Melinda Laszczynski • Trevon Latin • Polly Liu • Jesse Lott • Matt Manalo • Jake Margolin and Nick Vaughan • Gabriel Martinez • Gabo Martini • Melissa Miller • Delilah Montoya • Arely Morales • Shayne Murphy • Manik Raj Nakra • Karen Navarro • Jessica Ninci • McKay Otto • Sherry Owens • Steve Parker • Eduardo Portillo • Preetika Rajgariah • Josué Ramírez • Cary Reeder • Patrick Renner • Gerardo Rosales • Art Shirer • Anthony Sonnenberg • Alexander Squier • Kari Steele • Mich S • Richard Stout • Terry Suprean • Britt Thomas • Prince Varughese Thomas • Giovanni Valderas • Kelli Vance • Myke Venable • Sarah Williams • Erika Whitney • Dick Wray



Bidding opens September 23 and closes on Friday, October 16 at 11 PM CST.


Click the button be

A.W.H. is a revisiting of visual aesthetic and lexicon utilized in my earliest video works.

Due to the unfortunate passing of her mother, Ashley returns visit to Houston. With no remaining familial connections to the city, wishing to close the chapter on Houston, Ashley takes in the streets of Downtown Houston for what could be the last time.

Arranged as a collection of vignettes and scattered moments, A.W.H. serves as documentation that Ashley was here and I bore witness of her presence here.
Art on the Avenue
September 15-19
Online + Winter Street Studios, 2101 Winter Street, Houston, TX 77007
-----
More than 250 artists contribute to Art on the Avenue—Houston's largest silent art auction and annual fundraiser for Avenue. This annual event raises funds to enhance the quality of life of working families, and to promote healthy, vibrant, and economically diverse neighborhoods to ensure Houston's future as a world-class city.Save the date for an online auction and semi-virtual experience celebrating the 23rd year of Art on the Avenue and the artists that make Houston more beautiful.
Due to the ongoing risk of the COVID-19 pandemic, this year's event will take place mostly virtually - over five days – with an online auction and the option to view artwork in person safely during open hours and by appointment. We will be implementing strict safety guidelines and will require that all in-person visitors adhere to them in order to participate. A livestream program will take place on Saturday to close out the auction and contactless curbside pickup is available for all winning bidders.
Art on the Avenue is free to attend online and in-person at Winter Street Studios, but donations and event sponsorships are encouraged. Click the "Become a Sponsor" button for more information. Stay tuned to this space for information on how to reserve your free ticket on
Handbid
.
Proceeds raised from this event support Avenue's mission to build affordable homes and strengthen communities but also the artists themselves. Participating artists have the option to donate all or part of their auction sales with Avenue.
Visit our website for more:
https://www.avenuecdc.org/art-culture/art-on-the-avenue/