SAYERS GALLERY
A community-funded alternative arts space and residency program spanning from Summer 2017 to Winter 2018.
March 10 - April 14, 2018
"The void, the beginning of all creation, complete upheaval, the abyss; Chaos. This is ultimately what I felt and found while creating this mural - all intention seemed out the window, and I surrendered to circumstance of space, time, and outside influence.

This project was originally intended to span a few weeks, but in reality it took about six months of painting, layering, buffing, then sitting, staring, and repeating the cycle... Until, finally, Chaos was accepted. Chaos was born and it thrived in its collision of colors, textures, and figures. Chaos sprung from letting go of forced intent, and along the way I read, and wrote, and sat alone, and the walls began to make more sense.

The Chaos mural was one of the greatest art challenges I've faced so far. I pushed myself to combine mediums and move past the self doubt that comes with exploding one's mind on another's walls. I am drawn to creation stories and the interconnectedness of Gods and Goddesses of different cultures, the mother figures, the cosmos, and the relation to the present state of this world we seem to live in. Chaos comes from the water, it comes from sky, from destruction, and from hurt.. It comes from the the merging of opposite forces, and from Chaos, comes order.

Throughout this mural, one will find puzzle pieces, they fit together in chunky spaces, patched with abstract glitches, and though not all the words will fit, the pieces form a story. Like holy fuck, this mural messed with my whole perspective of self and the roles we, ahem, I, play in this world, and I'm so grateful I got the opportunity to create it."
-Nina Marinick
About the artist
Nina Marinick aka "KN0WME" is a multidisciplinary artist currently based in Houston, TX. She works with a strong focus on mural, illustration, and installation work. Through the use of different materials, Marinick's work explores all aspects of life - physical, mental, emotional & spiritual. She creates under various aliases in an effort to better understand the idea of 'self.' She is drawn to explore the effects of art on culture & society, and vice versa. Marinick examines both the "good" and "bad" in life, and through creation, she hopes to inspire positive change.

"Physical creation is an expansion of the mind, it is a visual mapping of ideas, feelings, and the parts that aren't easily defined."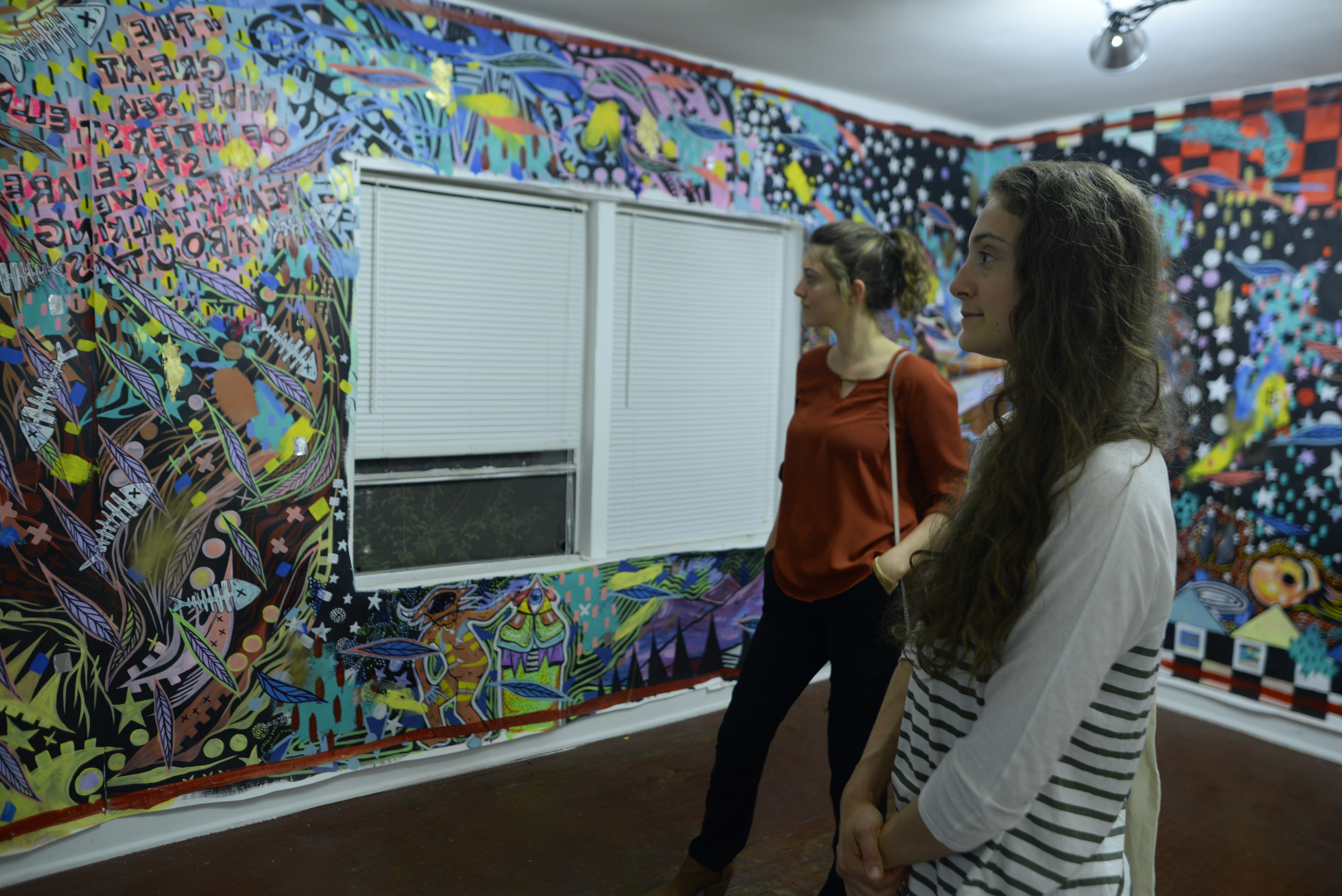 Photos courtesy:
September 29 - November 3, 2018
About the artist
Latricio Antoinette Perez is a queer identifying artist of Trinidadian and Cuban descent who considers herself a work in progress. Portals is her expression of that progress: where she's been, where she's at, and her hopes for the future. By opening these small windows into her world, Latricio reaches out to connect with those she has lost along the way.

Elements of healing and hope weave through her abstract narratives as Latricio strives to be the light in the darkness. Characters emerge as archetypes or surrogates of the artist herself, pulling her from her default world and into one of her own making.
Through her own struggles with mental health, Latricio continues to challenge herself, grow, and create. And though she is not completely healed, these murals serve as part of her ongoing process and let others on their own journeys know that they aren't alone.
TBD
About the artist
Sylvia Blanco is a self-taught, Houston-based artist who was born in San Luis Potosi. Her artwork has been described as having a heavy etheral quality with an influence from her Latin culture. As a painter, she is able to find brightness and loveliness in subject matters that are not often considered traditionally beautiful.

Her eclectic style uses themes of: soft power, strength, life stories, the balance of dark and light, and perserverence. She often depicts subjects such as women, animals and nature, Mexican culture, and romantically Gothic skulls. In addition to her personal work, Blanco paints family portraits, pet portraits and murals for local businesses and festivals.
Blanco has worked alongside artists such as Anat Ronen, Gonzo 247, Black Cassidy, Skeez 181, Alex Ramos, and with organizations including The Generators Playground, Aerosol Warefare, Up Art Studio,Via Colori, the Museum of Fine Arts - Houston, and Talento Bilingue de Houston.
Photos courtesy of the artist
About the artist
Starting my art career from scratch and with no formal education, later in life, means my perspective and views come from those of a "normal", "average" person, a simple, hardworking, unnoticed human. Life was never too easy for me, ups and downs, losses and gains, happiness and sorrow. When I did come to discover that there's more to me than just being, that creating was a part of who I am, it was like a volcano started to erupt and never stops.

At the beginning of my now 10-year career I did strictly commission work, projects dictated entirely by my clients. I had very little say, although in retrospective it shows that I did use my life wisdom I gained thus far to make my decisions and suggest my designs.
In 2013, an invite to paint a mural for a museum exhibit changed all that, and made me much more aware of what's in me, how I want to use it, and follow my true passion: urban art. Art for the people. Anywhere and everywhere. It made me want to break the rules, experiment, test the boundaries only to disregard them.
Every project teaches me something new – about art, about people, about myself. Every project takes me to a new adventure, to new discoveries. Every mural, every piece of art I produce stays in me, but also takes away a part of my soul. My artistic metamorphosis is now complete in a sense that I cannot see myself as anything else. I have become my art.


Photos courtesy of the artist